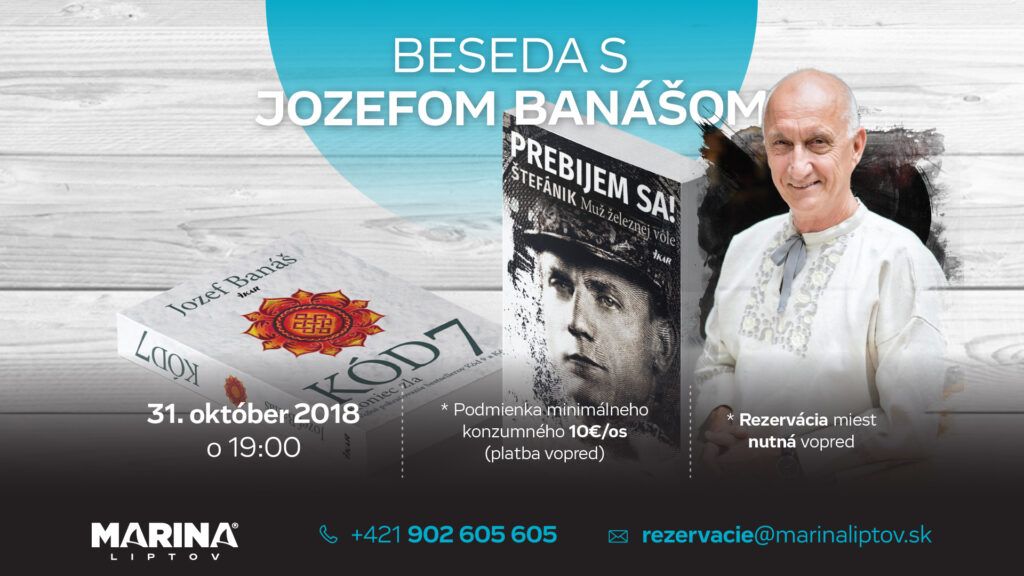 Slovak writer, politician, diplomat, top manager. Literary criticism called – a man who jumped on the train of Slovak literature at full speed straight into the locomotive – JOZEF BANAS.
Accept the invitation to a discussion with Jozef Banáš, where the main theme will be his latest novel "I Will Break! Štefánik", which is launched on October 2. However, you can also look forward to discussing Code 7 and many other topics.
When: 31.10.2018 (Wednesday)
Time: 19:00
For the 100% reservation it is necessary to pay the so-called. 10 € / person.
Payment required before the event (not on the day of the event). Consuming means you subscribe to a restaurant account. Drinks and meals are ordered on site. If your account per person exceeds 10 euros – for example € 12.50 – you will only pay € 2.50).
Reservation is required in advance, as the number of seats is limited to email rezervacie@marinaliptov.sk
We are looking forward to a pleasant evening.
---